WorkOutDoors
WorkOutDoors is the only workout app for the Apple Watch that displays a detailed vector map whilst you exercise. Perfect for hiking, mountain biking, skiing and much more.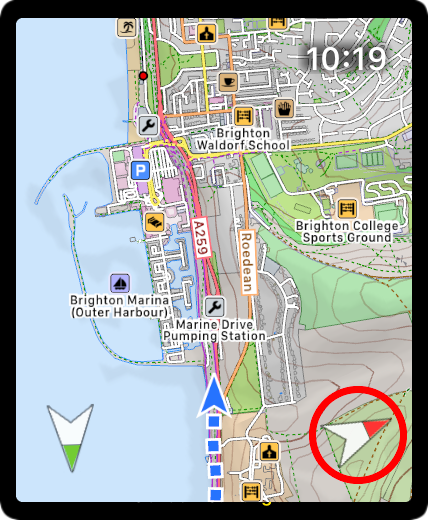 Auto-Rotation
The map can rotate to match the direction of travel. When in this mode the GPS location is shown below the centre, to show more detail ahead than behind.
The red compass points towards the north. Tap it to turn auto-rotate on or off.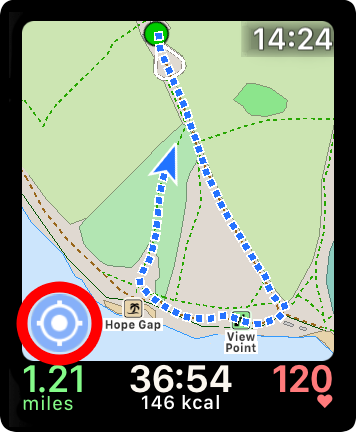 GPS Trail & Tracking
A series of blue dots marks out your whole route. The dots are grey where the GPS signal was poor.
If you pan away from your location, then a Tracking button appears in the bottom left. Tap it to resume tracking.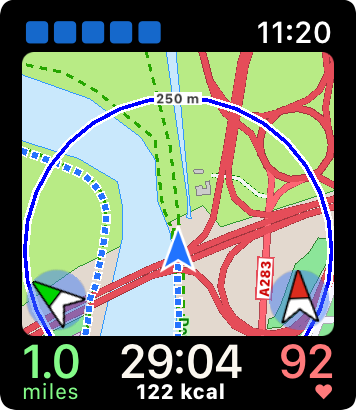 Zooming & Panning
You can use your finger to pan across the map in any direction.
You can zoom in or out by using the digital crown. A scale is shown as you zoom, making it easy to determine how far away points are.
Workout Statistics
The most important workout statistics are shown underneath the map.
Double tap the map to shrink the workout statistics and allow room for a larger map. Double-tap again to restore the statistics to their normal size.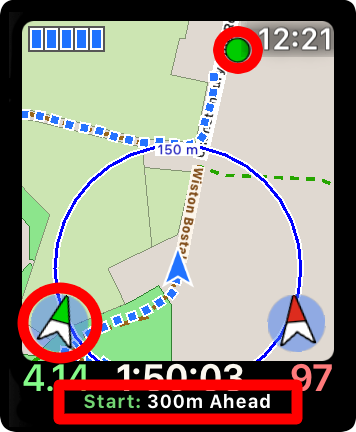 Start Compass
The green compass points in the direction of where you started your workout (for example where you parked your car).
Tapping the green compass shows the distance to this starting position.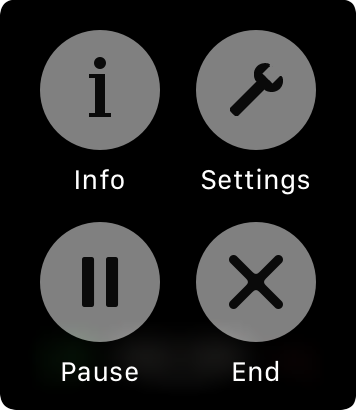 Pause & Resume
You can pause and resume your workout at any time by selecting Pause or Resume from the hard press menu.
In running mode the app can pause automatically when you stop moving.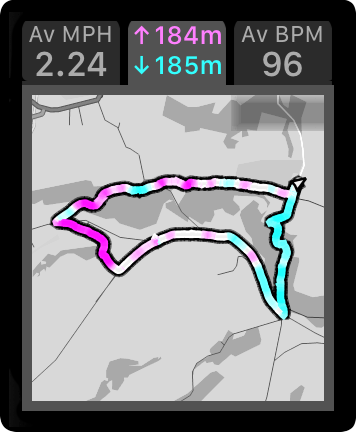 Speed, Elevation & Heartrate Trails
You can display coloured speed, elevation and heartrate route profiles.
These trails can be shown at any time during the workout by selecting Info on the hard press menu. They are also shown at the end of each workout.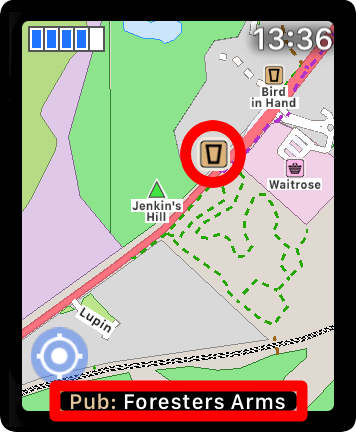 POI and Road Names
You can see more information about POIs or road names by simply tapping them.
The type and name of the POI, or the full name of the road, is then shown temporarily at the bottom of the screen.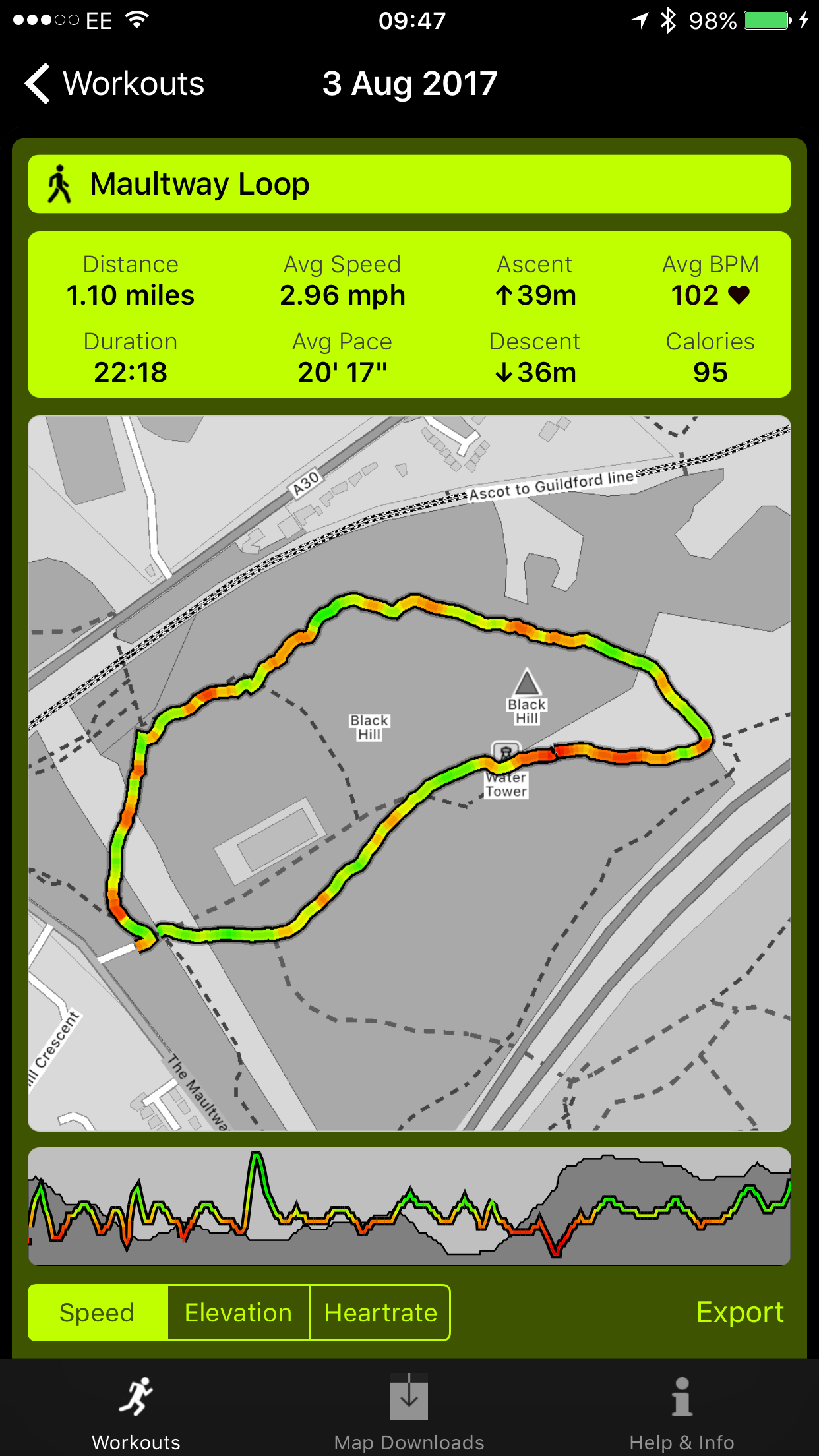 iPhone App
Workouts can be analysed in great detail using the iPhone app.
This displays full information about the workout, including maps and profiles for speed, elevation and heartrate.
Touching the profile shows instantaneous information at that position. Swipe left and right to see how the data varies throughout the period.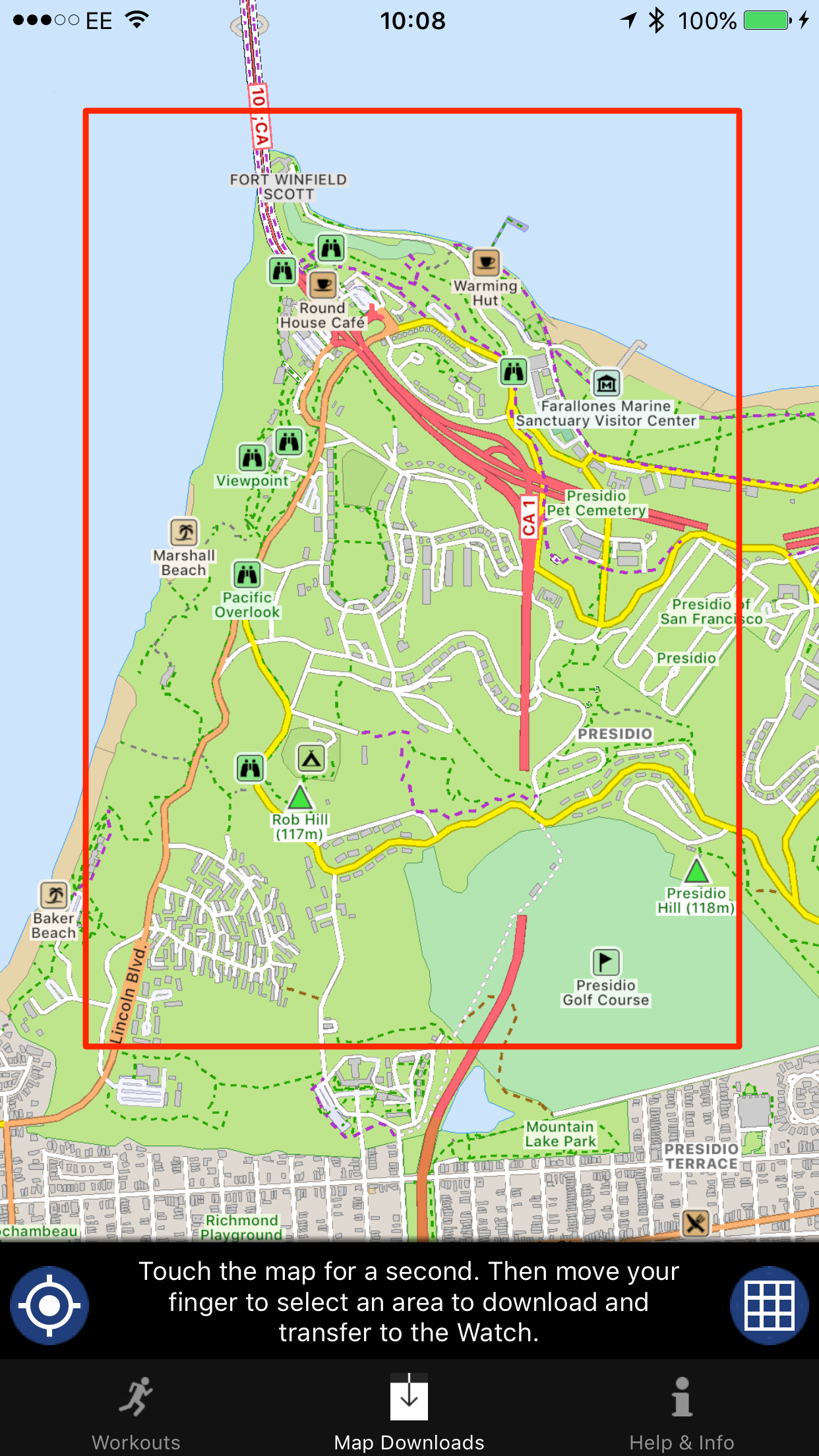 The iPhone app also allows areas of the map to be downloaded and transferred to the Apple Watch, for use offline.
This allows you to use the maps even without a data signal, and if you have GPS on the watch then you do not even need to bring your iPhone!
Downloading the maps in this manner also makes them quicker to draw on your watch, because it does not need to download them before drawing.
And finally here's a 30 second video of the app in action in Yosemite National Park: